BrightenLoans at a Glance
| | |
| --- | --- |
| Loan types | Secured and unsecured personal loans |
| Loan amount | $100 to $5,000 |
| Repayment Terms | 12-30 months |
| Top Pro | Quick approval process means funds are received quickly |
| Top Con | Does not directly underwrite loans, so results may vary |
| Best for | Borrowers seeking quick and simple financing |
Brighten Loans Visit BrightenLoans
Overview
BrightenLoans helps customers get the funding they need thanks to their extensive network of trusted loan providers. The company believes in cutting down on stress and time wasted when it comes to getting loans, and works with customers from all walks to help improve access to financing. Thanks to its simple application process, BrightenLoans removes the need for complicated applications, back and forth with underwriters, and even direct negotiation with institutional lenders. Instead, the company connects borrowers to the best available option for their specific needs free of charge.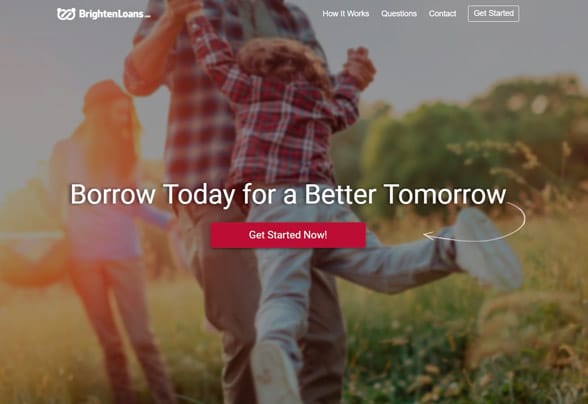 Best for Whom?
With a quick application and an expansive lender network, BrightenLoans is an ideal solution for customers looking for funds in a hurry. The company's preapproval process helps customers match with lenders more easily, taking some basic details and searching through the extensive network of partners to find those loan providers that are most likely to offer favorable terms. This model has the added benefit of giving customers additional choices and lowering the cost of financing as lenders compete for a borrower's business. BrightenLoans is also a great service for those customers who prefer multiple options and elect to shop around for loans, but do not have the time or means to visit a variety of different lenders individually.
The Application Process
With BrightenLoans, customers can apply for loans that range in amount from $100 to $5,000. The company is not directly a lender, but its network of reliable loan providers is suitable for a wide range of customers with specific needs. We were impressed with how easy it was to get started with the company. The preapproval process only takes a few minutes, and is powerful enough to get customers matched to the best solution swiftly. To get started, users can simply fill out a straightforward form on BrightenLoans' website. This application only asks for essential personal information and some financial basics, and avoids requesting sensitive data. We were happy to see that the company also does not perform a credit inquiry, which in many cases can impact a user's credit score, and affect their odds of receiving favorable terms.
Once the application is completed, customers will be preapproved in a matter of seconds, and start seeing the offers available from BrightenLoans' lender network. Customers should keep in mind that any terms and rates shown on the website are set by the specific loan provider, and the company does not guarantee these terms. Final negotiations and agreement on terms happen between the customer and the lender they select from the list of potential matches.
Loan Terms – the Bare Basics
Generally, we were impressed with the depth and range of loan options available through BrightenLoans' partners. The company can connect customers with a variety of loan providers who offer excellent terms and conditions. It is important to note that BrightenLoans' network of lenders is focused on providing customers with short-term and quick personal loans that can help them navigate through a rough financial patch or pay for a new life project such as a big move. Even so, there is much to appreciate regarding the variety of loan options.
Borrowers applying for a personal loan through BrightenLoans can request loan amounts between $100 and $5,000. Though this may not match other competing lenders operating in the personal loans space, the company is more focused on customers who need fast funding and may not require large sums. Additionally, the company's loan providers offer repayment terms between 12 months and 30 months, making the potential options very suitable to cover short-term financing needs.
BrightenLoans' partners are also willing to work with customers of all credit standings. One of the things that make the company such an ideal alternative is that borrowers can access the financing they need, regardless of their credit score. The company's network of loan providers offers interest rates that can go as high as 35.99%. Customers should keep in mind that the rates presented on BrightenLoans' website are representative, and final terms and rates are always agreed upon with the lender a borrower chooses.
Repayment Terms
Because the company is focused on providing fast assistance to customers, BrightenLoans' network of lenders offers terms that are on the shorter end of the lending spectrum. Customers still have an excellent range of possibilities available, but BrightenLoans' service works best with borrowers that are seeking smaller amounts that can be repaid on a shorter timeline. The company's partners offer repayment terms as short as 12 months, while their longest available repayment period stretches to 30 months. BrightenLoans works with customers of all creditworthiness, so their interest rates may be higher for those customers with a lower credit score. All told, there is much to like about BrightenLoans' lender network, and the number of options customers receive makes it an intriguing alternative for those borrowers looking for a fast financing solution.
Loan Features
Overall, we were satisfied with BrightenLoans' service and features. The company is not directly a lender, but works with a wide network of reputable loan providers to offer customers a variety of efficient financing options to pursue. Partner lenders offer customers competitive rates and excellent terms to choose from, letting customers identify the best deal that is most relevant to their needs. The company's preapproval application is easy to fill out and does not require sensitive information before matching a user to a lender within just a few minutes. BrightenLoans also scores major points for working with customers of all levels of creditworthiness to find the funds they need to cover emergencies, life projects, or larger purchases. Another big benefit is the company's marketplace structure, which does not force customers into a single match, but lets them choose the option they prefer.
Some of BrightenLoans' highlights:
Extensive lender network
Lightning-fast preapproval
Receive approval and funding in 24 to 48 hours
Strong customer data security
Great loan amounts
Effective matching strategy
Clear privacy policy
Informative FAQ section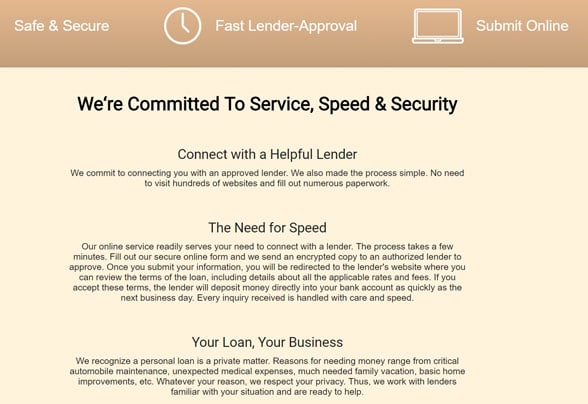 How Safe is It?
During our review of BrightenLoans, we found that the company puts forth significant effort into protecting customer information. The company's privacy policy is incredibly detailed and explicit as to the information they collect from users, how they use it, and how they protect it. Generally, BrightenLoans only collects the information that is essential for their operations, as well as that data they need to help borrowers discover the perfect loan to fit their unique financial circumstances. Additionally, all data is stored on servers protected by industry-standard security measures that include both electronic and physical failsafe mechanisms. We were overall pleased with the level of security delivered by BrightenLoans.
Help & Support
One of the areas where BrightenLoans could expand on its offering is customer service. The company does an excellent job of explaining its service and the ways it offers customers loans. Additionally, they have a detailed and insightful FAQ section for most common questions. We would have appreciated the addition of more channels of communication for support, as they do not list a contact email, and finding a telephone to contact them takes some navigation.
Pros and Cons
Pros
Cons

Funds can be received in as little as one business day
The application is lightning fast and effective
BrightenLoans counts on a wide network of reliable lenders
The company protects customers' personal information

The company could add more channels for communication including email and live chat
The website could be made easier to navigate to find information more quickly
Information regarding loan terms and rates was difficult to find
Summary
With a simple yet innovative model for providing loans, BrightenLoans manages to stand out in a crowded field. The company focuses on helping customers that need access to quick financing and cannot wait for lengthy and complicated application processes. Additionally, BrightenLoans' willingness to work with borrowers of all walks of life make it an ideal service for those customers who may not be able to access a loan through more traditional channels. Thanks to a lightning fast application process and an excellent matching system that provides diverse choices, BrightenLoans is an ideal service for customers seeking quick financing and terms suitable for individuals of all credit backgrounds.
Brighten Loans Visit BrightenLoans