Upgrade Visit Upgrade
Overview
Upgrade is an online marketplace lending platform founded in 2016 by Renaud Laplanche and Soul Htite, who were both previously co-founders of Lending Club. Laplanche's reputation in Silicon Valley was strong enough to attract $60 million in financing for Upgrade from many of the prominent venture capitalists who had backed him with his previous projects. Personal loans through Upgrade offer up to $50,000 for purposes such as paying off credit card debt, financing a home improvement, or making a large purchase. It differentiates itself from the likes of Lending Club through features such as free credit monitoring and financial-education resources.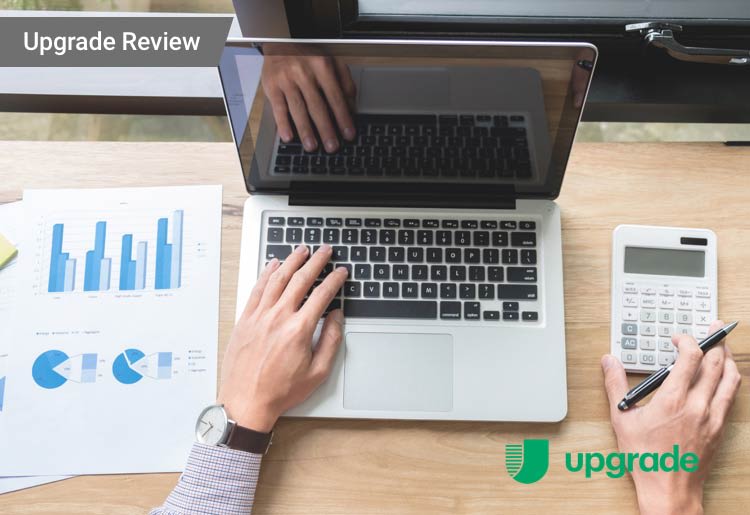 Suitable For?
Upgrade's loans are aimed at tech-savvy Americans who need personal loans to cover large expenses. Its free educational tools, including a credit-health tracker, aim to make it easy for people who have had a loan application rejected to build up their credit score and achieve success with their next application. Upgrade accepts loan applicants from all states except Connecticut, Colorado, Iowa, Massachusetts, Maryland, Vermont, and West Virginia.
Loan Features
You can get fixed-rate personal loans ranging from $1,000 to $50,000, and with repayment of either 2 or 7 years. In addition, through Upgrade you'll get a credit-health tracker free of charge, and without any commitments. Users can access the tool at any time for a summary of their latest credit report and an explanation of the key factors influencing their credit score. The tool also includes a useful credit score simulator, where users can input hypothetical scenarios such as repayments on their credit card balance or an increase on their credit card limit, and find out what the impact of these scenarios will be on their credit score. And users can access the tool as many times as they wish – without their credit score being affected.
The Application Process
The application process takes place online. To begin, just enter the loan amount you wish to apply for, and the purpose of the loan. You will then be taken to another page and asked to fill out a few personal details, including:
Name
Address
Monthly income
Social security number
Shortly after completing the form, you'll receive an email informing you whether or not you've been approved for a loan, along with the interest rate. If you are denied, you'll receive an explanation of why this was the case. If you accept your loan offer, the funds will be sent to your bank account within 1 business day of all the necessary verifications, and will typically be available within 4 business days, depending on how quickly your bank processes the funds.
As mentioned above, the key requirements are at least $1,000 free cash flow per month, and that the loan be used for specific purposes such as paying off credit card debt. Free cash flow is based on the applicant's income, the cost of living in their area, city and state tax rates, and any mortgage or rent payments that are part of the applicant's monthly expenses.
How Much Can You Borrow?
Applicants can request loans of as low as $1,000 and as high as $50,000. The final loan amount depends on a number of factors, including credit score and free cash flow. A minimum credit score of 620 is required for approval. Only unsecured loans are offered through Upgrade, which means borrowers aren't required to put up any collateral.
Repayment Term
Loans have APRs ranging from 7.96% - 35.97%*. For the lowest rates, applicants must agree to automatic monthly repayments. All loans have an origination fee of 1.85-8.99%, which is deducted from the loan amount at the beginning. Applicants can choose from repayment terms of either 2 years (24 months) or 7 years (84 months). Monthly repayments depend on APR, origination fee, and loan duration. Late payments can result in late fees.
Privacy & Security
All loans are made by WebBank, an accredited member of the Federal Deposit Insurance. Corporation, which is a US government corporation providing deposit insurance to depositors in US banks. Upgrade promises to protect all applicants' personal information from unauthorized access and use, and its security measures comply with federal law.
Help & Support
Upgrade has an A rating from the Better Business Bureau for its customer support, with BBB rewarding it for positive online reviews. Upgrade's website stands out for its educational resources, with dozens of informational pages and of course the free credit-tracking tool. Customer support can be reached by email at contact@upgrade.com, or through the Support button which can be found at the bottom-right of each page on the website.
Summary
Upgrade was founded by two of the people behind Lending Club, one of the pioneers in the world of online lending, and it is aiming to fill some of the remaining gaps not covered by most of the existing players in the market, including a lack of support for rejected loan applicants. The main point of difference between Upgrade and many of its competitors is its free tracking tool and simulator, which allows borrowers to understand and improve their credit score in order to secure better terms on their next loan. Upgrade's service is quick, easy to use, and transparent. The service is most beneficial for borrowers with credit scores hovering around 620 and with a preference for doing things online and without delays.
Physical Address
Upgrade, Inc
275 Battery Street, 23rd Floor
San Francisco, CA 94111
Upgrade Visit Upgrade
Disclaimers
Personal loans made through Upgrade feature Annual Percentage Rates (APRs) of 8.49%-35.99%. All personal loans have a 1.85% to 9.99% origination fee, which is deducted from the loan proceeds. Lowest rates require Autopay and paying off a portion of existing debt directly. Loans feature repayment terms of 24 to 84 months. For example, if you receive a $10,000 loan with a 36-month term and a 17.59% APR (which includes a 13.94% yearly interest rate and a 5% one-time origination fee), you would receive $9,500 in your account and would have a required monthly payment of $341.48. Over the life of the loan, your payments would total $12,293.46. The APR on your loan may be higher or lower and your loan offers may not have multiple term lengths available. Actual rate depends on credit score, credit usage history, loan term, and other factors. Late payments or subsequent charges and fees may increase the cost of your fixed rate loan. There is no fee or penalty for repaying a loan early. Personal loans issued by Upgrade's bank partners. Information on Upgrade's bank partners can be found at https://www.upgrade.com/bank-partners/.