In a Nutshell
Next Day Personal Loan is a lending marketplace headquartered in Kansas that can help you find a lender for loans of $100 to $40,000. As these are classified as personal loans, you don't have to use any collateral assets to secure them. Requesting a loan is easy thanks to a simple form that takes just a couple of minutes to fill in. Because this platform works with multiple lenders, no minimum credit score is needed to use it.
pros
Get cash as early as the next business day
Nation-wide marketplace of lenders and lending partners
Requesting a loan takes just a few minutes
cons
Works with third-party lenders and doesn't lend cash itself
Some lenders have uncapped interest rates
Your inquiry may appear on your credit history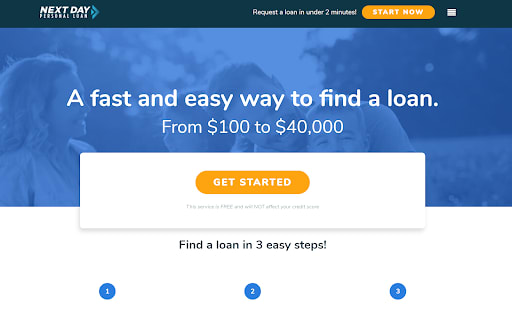 Next Day Personal Loan at a Glance
| | |
| --- | --- |
| Direct lender or marketplace? | Marketplace |
| Loan types | Personal loans |
| Loan amount | $100 to $40,000 |
| Repayment terms | Varies with lender |
| APR | 5.99% to 35.99% or higher with tribal lenders |
| Best for | Debt consolidation, medical fees, student tuition |
Best For?
Holders of Existing Debt
With Next Day Personal Loan, users can request loans for the purpose of debt consolidation or settlement. If you are already paying back a loan or have multiple existing debts, finding a lender through Next Day Personal Loan may enable you to space out repayments over a longer period or get a better overall interest rate.
Borrowers with Steady Employment
Although Next Day Personal Loan doesn't make loan decisions itself, lenders in its marketplace do follow responsible lending codes of practice and are unlikely to lend to anyone who doesn't hold a job at the time of their loan request. As a representative example, Next Day Personal Loan suggests lenders will probably look for a minimum monthly income of $1,000 along with at least four weeks of employment history.
Students
Getting an education can be expensive. Although the vast majority of student loans are federal, sometimes a government loan isn't the right option. For students who want to check what other rates are available from private lenders, Next Day Personal Loan may be worth checking out.
Range of Loans on Offer
As the name suggests, Next Day Personal Loan helps users find providers of personal and installment loans. The features of each loan will entirely depend on the lender that you are connected with. The provider will set things like the repayment period, interest rate, and the number of installments. Because most loans found through this marketplace are personal in nature so they can be used for a range of different purposes. When requesting a loan through Next Day personal Loan, you can request a loan for all the following:
General and credit card debt consolidation
Student loans
Home improvement loans
Medical cost loans
Relocation loans
Renewable energy installation loans
Loans for small businesses
Travel loans
Wedding and event loans
Request Process & Requirements
Performing a lender search through Next Day Personal Loan only takes a few minutes. To get started, simply hit the "Start Now" button on the Next Day Personal Loan homepage. You'll need to state how much cash you'd like to borrow, from $100 to $40,000, and what you want to spend it on.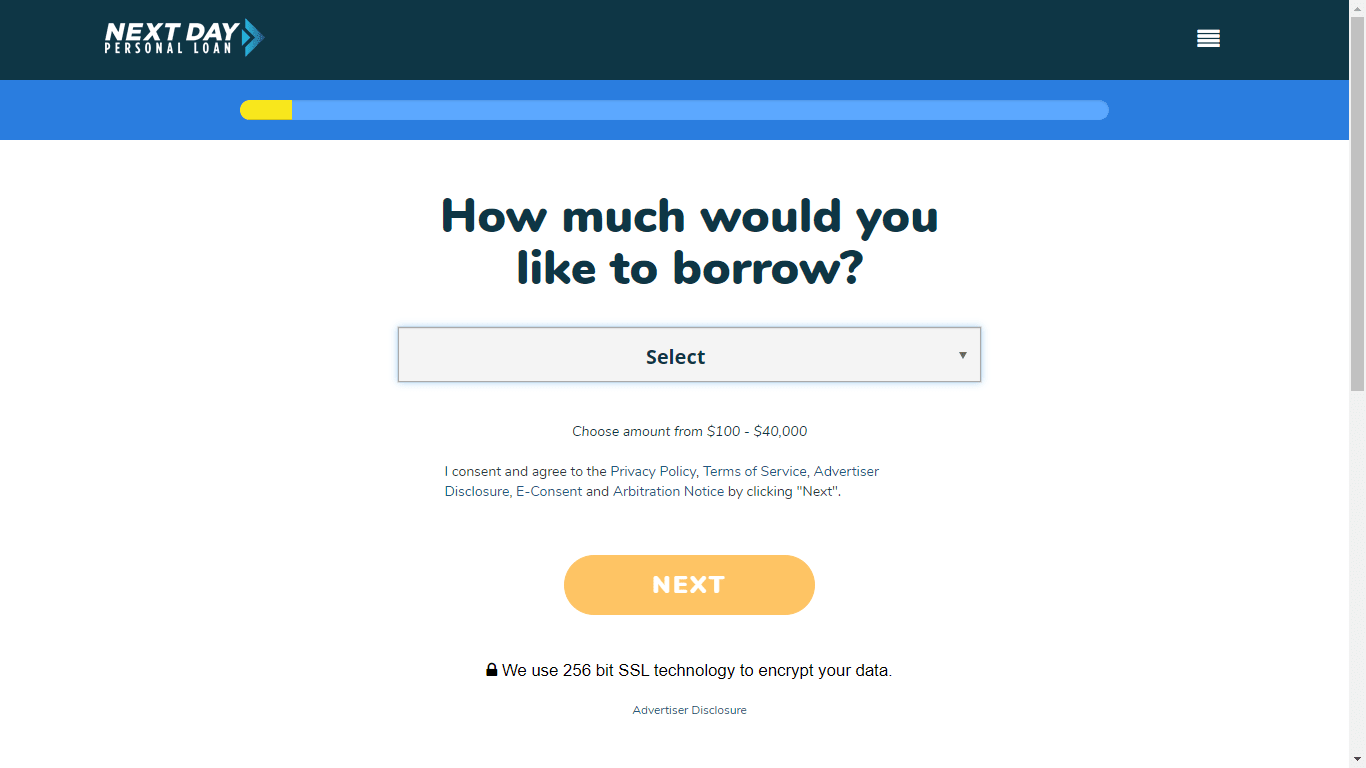 Next, you need to submit a good deal of personal information including estimated credit score, address, pay frequency, employment status, and even your social security number. This is info is highly personal but past customer reviews of Next Day Personal Loan posted at ConsumerAffairs.com don't reveal any cause for concern about the data protection practices of this company. However, Next Day Personal Loan is not yet accredited by the Better Business Bureau.
To finish the process, simply confirm you are OK with being contacted by multiple lenders using the information you've provided. It's important to note that several Next Day Personal Loan affiliated lenders may request credit checks on you once you complete the process. These may show up on your credit history, potentially reducing your credit score by a few points.
In total, performing a loan search through Next Day Personal Loan will take no more than five minutes. However, you will need to wait for providers to contact you and take some time to go through the fine print of every loan offer. If everything goes smoothly, cash could arrive in your bank account within 24 hours.
There are no set credit requirements for using Next Day Personal Loan because this is a marketplace and doesn't make decisions about who to offer loans to itself. Each affiliate lender will have its own policies about who to approve, and these will typically take into account factors like credit history, employment status, and income.
APRs, Loan Amounts & Repayment Terms
With Next Day Personal Loan, you can look for loans of between $100 and $40,000. Not all lenders in this marketplace actually offer $40,000 loans though, so your choice of service may be more restricted if you are searching for an amount close to the top of that range.
Your Annual Percentage Rate (APR) will vary depending on the provider you pick. The minimum APR you'll likely come across with a Next Day Personal Loan provider should be around 6% and most lender rates will top out at 35.99%. However, some services in the Next Day Personal Loan marketplace are tribal lenders who aren't subject to interest rate limits and may, as such, offer a higher APR.
Repayment terms are also set by the individual lender that Next Day Personal Loan connects you with, so make sure you read terms and conditions carefully before accepting an offer. In general, Next Day Personal Loan supports searches for unsecured loans, meaning you won't automatically lose a collateral asset if you don't repay. However, lenders may still take into account whether or not you own your home and are likely to use collection agencies to target any property or other assets if you do default on the loan.
Privacy & Security
On the Next Day Personal Loan site, you'll find an in-depth privacy policy detailing who the company will share your information with. To keep the details you submit during your loan search secure, this platform secures all user data with industry-standard 256-bit encryption.
Help & Support
Because Next Day Personal Loan is a marketplace rather than a lender, customer support is limited. You can, however, send the team behind the platform a message using a contact form or get in touch over the phone at (833) 321-7764.
How Next Day Personal Loan Compares
| | | |
| --- | --- | --- |
| | | |
| APR | 5.99% to 35.99% (or higher) | 2.49% - 35.95% |
| Min credit score | None | None |
| Loan amounts | $100 to $40,000 | $1,000 to $50,000 |
| Loan term | Varies with lender | 3-180 months |
| Best for | Debt consolidation | Evaluating a range of lenders |
A closely matched Next Day Personal Loan competitor is LendingTree. You can use this alternative platform to search for loans of a similar size to Next Day Personal Loan but LendingTree has a lower minimum APR meaning it may be a better place to search if you have a strong credit history.
FAQs
Q. What is a personal loan?
A. A personal loan is a cash advance that can be used for any personal use like paying medical bills or dealing with credit card debt.
Q. Will Next Day Personal Loan lenders perform credit checks?
A. Policies vary between lenders but most do perform credit checks using national consumer lending databases.
Q. What happens if I pay late?
A. This will likely result in a finance charge which could be a flat fee or proportionate to the amount of your loan.
Q. Does Next Day Personal Loan offer loans?
A. No, this is just a site where you can connect with US lending services.
Summary
If you're looking for a new personal loan, Next Day Personal Loan is a totally free loan marketplace that can connect you with lenders. One of the main advantages of this service is speed as it takes just a couple of minutes to enter your details and start receiving quotes from lenders around the country. However, if you are worried about protecting your credit score, you should know that making an inquiry through this platform can result in multiple score-impacting credit checks.
Physical Address
6709 W. 119th Street #338, Overland Park, Kansas 66209